Trimming ear hair and nose hair is a bit hard, but it can be done. An ear and nose trimmer are helpful for men who have excess hair in those parts. Maintaining such hair can be a handful as compared to shaving beards, and this is why men often get frustrated if they get a ton of nose and ear hairs.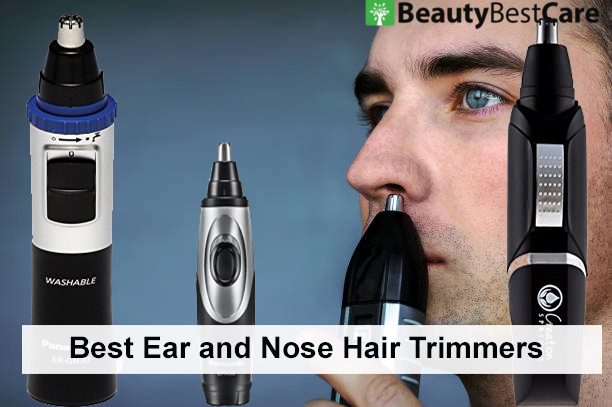 Today, a lot of handy gadgets can be used for men's grooming needs, and one such tool is an ear and nose trimmer, which works like a beard trimmer except that it's for the different parts of your face. Usually compact and looking like a thick pen, it comes with safe blades for trimming excess hair.
The blades usually have a dual edge design so it trims hair faster. Moreover, these trimmers can also be used for other detailed trimming needs, like eyebrows and beards. This is because the fine and sharp blades can be used for putting more contours and fine shapes to your facial hair.
Most of these trimmers are battery operated (usually AA batteries) and that makes them okay to use anytime and anywhere. It should be hypoallergenic because that means that it is safe for sensitive skin. A trimmer that is easily washable under running water is a must-have, especially for bathroom grooming needs. In fact, there are also trimmers that can be used even during the shower due to being water-resistant.
Nonetheless, here are the 10 best ear & nose trimmers for men: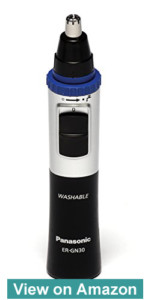 The Panasonic ER-GN30-K Nose & Ear Hair Trimmer is a great trimmer because of its dual edge design for the clipper, which also makes it hypoallergenic so it's okay to use for sensitive skin. Having a trimmer that is hypoallergenic is important, as not all men have the same skin type.
When it comes to the blade shape, it is curved, which makes it safe to use, especially when you are in a hurry. Moreover, the blades don't leave the nose hair entirely bald – it leaves just the right amount of hair needed to keep dust and debris from getting into your lungs.
Aside from that, you are free to use it in the shower because of its wet and dry operation, so you can use it anytime. Having a trimmer that is applicable for shower use means a lot for those who like to groom while bathing. In addition to that, the trimmer doesn't make too much noise so it's not too annoying to use anywhere.
Other than being a nose and hair trimmer, the device can also effectively trim down and shape your eyebrows, mustaches and beards for those who want a finer grooming device.
Cleaning up this trimmer is also very easy due to the Vortex Cleaning system, which allows an all-around water entrance to ensure no trace of hair is left behind when you put it under tap water. This makes it easier for you to maintain the trimmer with less jamming.
Because it is cordless, you can use it conveniently while traveling due to its portability. The one-handed operation of this trimmer is also ergonomic so you feel at ease while grooming your ear and nose hairs. You can just power it up using 1 AA battery, which can give you up to 90 minutes of runtime. The device is also backed by a 2-year limited warranty.
Pros:
Wet and dry operation
Hypoallergenic
Easy to clean up
Cordless (battery operated)
Quiet operation
Cons:
Gets a bit too hot when overused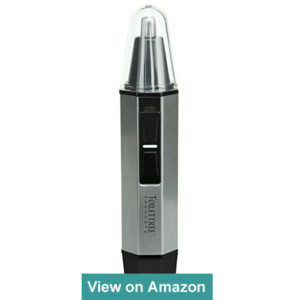 The ToiletTree Professional Water Resistant Nose Trimmer is also a nice pick because it is filled with unique features such as a LED light. This makes it helpful for you to reach into your nose or ear to get the little details without hurting yourself.
The steel construction of this trimmer makes it versatile against wear and tear. Having no plastic parts at all makes this trimmer durable and also reliable, so you can use it for the many years to come. The blades are made of high-quality stainless steel, which is important because it will be used to cut nose and ear hair, and should be kept sharp as much as possible without causing pain.
The blades are also expertly shaped so that you only achieve a smooth trim for your nose and ear hair. When it comes down to the device operation, it doesn't get too hot easily so you can use it for hours, especially if you use a high-quality battery for it.
Like our previous pick, this trimmer is also easy to clean because it is water resistant. Having a design like this also makes it ideal to use under the shower head, for a more effective body grooming experience. The body is also rust-free, in this case, so you can rinse it off without a problem.
You only need 1 AA battery to run this nose trimmer, so it is a good travel buddy. This is especially the case if you're in a scenario for a business meeting abroad and you need to trim nose hair while in a hotel bathroom.
The blade shape and details of this trimmer also allow you to painlessly trim and shape your eyebrows and beard, so you can achieve a finer shave for your grooming needs, especially if you are maintaining a look or image with your beard.
Pros:
Cordless operation
Water resistant
Smooth blades
LED light
Does not get hot
Cons:
Reports of defective switches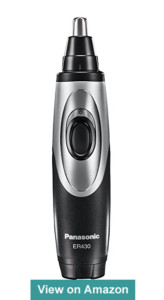 The Panasonic ER430K Ear & Nose Trimmer is also a great contender in our list because of its wet and dry operation, which allows you to groom in the bathroom with it. This is important for those who absolutely need to trim their nose hair while showering or after a nice bath.
This trimmer is also battery operated so it is portable and compact to bring with you to travels in your carry-on or luggage. It is a handy item to have if you plan on a business or corporate trip and you need to look presentable. You only need one AA battery for this device to run, which is easy to find in most stores worldwide.
The vacuum cleaning system of this nose trimmer makes it super simple to rinse under tap water. This is convenient because regularly cleaning your device means that it will be less likely to get jammed with hair, resulting in a more effective nose trimming or ear trimming experience without the pain.
As for the blade shape, they are also dual blades so you will feel comfortable while using them, especially if you have sensitive skin or if it's your first time using a nose trimmer. You can also use these blades for fine detailing for beards, stubbles, eyebrows, mustaches and the like.
The curved design of the dual blades is not just hypoallergenic but also safe yet cuts as clean as possible. You will get no hair pulling experience at all, so beginners at the nose and ear grooming can worry less about its safety.
Aside from these safety features, the ergonomic handle and design make it super comfortable for you to hold on to, especially if your hands are wet and you need to trim nose hair. This ensures that you will hold the device safely so as not to hurt your nose or ear while trimming hairs. Panasonic also has best electric shavers in the market.
Pros:
Curved hypoallergenic blades
Can be used for detailed beard grooming
Portable and cordless
Water resistant
Easy to clean
Ergonomic handle
Cons:
Need to be disassembled for cleaning, which can be a hassle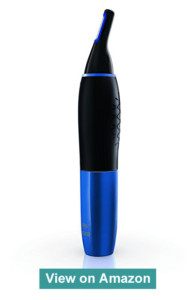 The Philips Norelco NT9130/40 5100 Nose Trimmer is a good pick for a trimmer because it comes with an entire grooming kit such as a comb and a detailer if you want to shape your stubble, beard, mustache or sideburns, other than your nose and ear hair. There are a total of 2 trimming combs for eyebrow trimming as well as a comb for detailing.
The skin guard technology of this trimmer is set to be used for both normal and sensitive skin, so you can worry less about skin irritations after using this nose trimmer. This is done with a surrounding guard around the blade so that your skin won't feel the blade's sharpness, yet it can still cut hair effectively.
A storage case also comes with this trimmer, which is a good feature. Having a handy case lets you organize the trimmer and its accessories so that when you want to travel with it, the trimmer stays put and you can use it on the go whenever you need it.
For the blade, it is made with chromium steel, which makes it a good trimmer for fine nose and ear hair. Having a sharp blade with effectiveness at cutting hair is important for trimmers so you can get the most out of them without compromising safety, as dull blades can be dangerous and bounce back on hairs.
Because this trimmer is easily washable and water-resistant, it is suitable for bath time needs and for grooming in the bathroom. This helps you finely trim your nose and ear hair while in the shower. You can also simply rinse it after using to prevent jamming of hairs.
Included in the package is an AA battery so you can use it right out of the box. It also comes with a protective cap so your trimming head stays safe and the blade stays sharp. A cleaning brush is also included for better maintenance.
Pros:
Grooming attachments
Storage case
Water-resistant for use in the shower
Chromium steel blades
Cons:
Not as quiet as other brands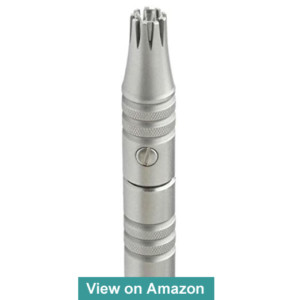 The Groom Mate Platinum XL Nose & Ear Hair Trimmer is a fully stainless steel made trimmer that will be a heavy duty one for the many years to come. Having a stainless steel body with a trimmer can be a bit heavy but in no doubt, it is a lot better than having a flimsy plastic one in terms of durability.
It is a nice trimmer for your grooming needs, in just one compact device. It may be fully stainless steel but it does not mean that it is too heavy, as it still has a compact design. The blade system of this trimmer is a rotary blade that does not pull hairs at all, resulting in a safer and much more effective hair trimming experience for your nose or ear hair. The blades do not get dull at all due to their construction.
Safety is a good point on this trimmer's design because of its shape that does not get into the sensitive nose parts so it won't hurt your nostrils while removing hair and won't cause you to have a lot of allergic reactions while trimming.
Under running water, you can clearly rinse off this trimmer when not in use. This ensures that the trimmer cannot get jammed or clogged hairs from within its entire system, resulting in a much more effective grooming session day to day, especially if you use it a lot (e.g. your hair grows faster than normal). Having a water-resistant trimmer is also good so you can use it in the shower just fine.
Because of the small profile, you can take it with you to your travel destination and maybe trim hairs at a hotel restroom. It is also better than battery trimmers when it comes down to power and blade sharpness. A lifetime warranty is also guaranteed for this awesome nose hair trimmer.
Pros:
More powerful than battery operated trimmers
No need to replace a battery
Washable under tap water
All stainless steel body
Portable design for traveling
Cons:
Barrel design may tend to pull some hairs so be careful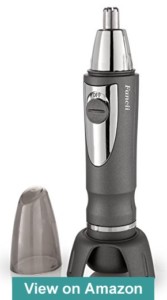 The Fancii Professional Water-Resistant Nose/Ear Hair Trimmer is a considerable device that has ultra sharp blades made of stainless steel. The blades won't need to be maintained much because they are already very sharp yet safe to use. This makes the trimmer a lot more effective than others. Trimming nose and ear hair is a delicate process and so you need sharp but safe blades to maintain them.
Capable of both wet and dry operation, this trimmer is a good shower buddy for grooming at your own pace. It is also washable under tap water, which makes it super convenient to rinse and clean after each use. Rinsing your trimmer is important so you don't clog it up and make the unit fail eventually.
The dual edge blades are coupled with a unique blade action in cyclone motion that help trim nose and ear hair faster without pain at all. You will never feel any kind of pulling if you use this trimmer for your delicate hair trimming needs.
Only an AA battery is needed to power up this trimmer, which is pretty convenient. It is also portable in this way, such that you can use it from anywhere even when you are at a vacation spot and need to groom your nose hairs or ear hairs. Portability means a lot if you travel often.
The LED light included in this trimmer is a super helpful feature if you want to thoroughly reach down your nose and ear spots for those stubborn hairs that can't be easily seen. This also ensures that you don't trim on sensitive areas of your ear or nose.
You also get a quiet motor so it doesn't annoy you at all when you're trimming hairs. It is also ergonomic in its handling design, which is important if you have wet hands from the shower. A safety cone also helps it trim hair without hurting the skin, thus making it hypoallergenic. A lifetime warranty is guaranteed with this trimmer.
Pros:
Hypoallergenic
LED light
Portable
Stainless steel blades
Cons:
LED light quality isn't that good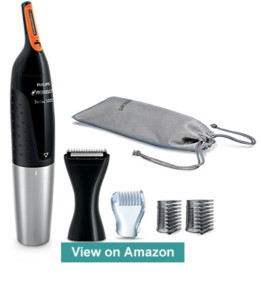 The Philips NT5175/49 Norelco 5100 Nose Trimmer is perhaps a good choice for those who want multiple attachments for a trimmer for nose and ear hair. The attachments included are two eyebrow combs, one at 3 mm (1/8 inch) and one at 5 mm (3/16 inch) for your detailing needs. You also get a beard comb, which measures 3 mm as well. These combs are very helpful if you want to get the best out of a nose trimmer and also use it for your beard, stubble, sideburn, eyebrows and the like.
Because of its water-resistant qualities, you can wash it off using your sink faucet to clean it off excess hair. This is important, as hair that is stuck inside the trimmer can cause blade damage and unit damage as well as clogging. Water-resistant trimmers like these can also be used while showering, for people who like to do some multitasking in the bathroom for grooming purposes.
You won't get nicks and cuts with the ProtecTube technology that surrounds the blades so they will not touch your skin at all, resulting in a finer cutting experience without pulling hairs at all. This is highly important for first-time trimmers and those with sensitive skin.
Edging as well as faster nose and ear hair cutting is achieved with the Dual Cut technology of the blades. Moreover, these blades are not just sharpened once, but twice, which gives them the "edge" (pun intended) for your trimming and grooming needs.
Only being powered by an AA battery means that it can be taken anywhere and anytime you need to trim your nose or ear hair. A cleaning brush is also included so that you can finally sweep away any fine hair that has been left in its interior. Moreover, there's also a soft pouch that you can store the trimmer into whenever you're done using it. A 2-year warranty is also included with the unit.
Pros:
A plethora of attachments
Water-resistant and fully washable
Hypoallergenic
Battery powered
Cons:
Reports on sideburn trimmer malfunction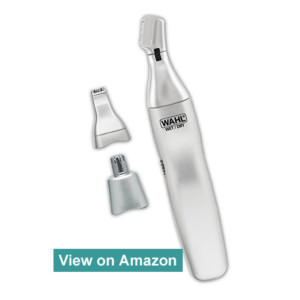 The Wahl Ear, Nose and Brow Trimmer is a super lightweight grooming device that can be taken with you wherever you want to go. Its compact design makes it a good travel buddy in case you need to be prim and proper for a business client while on company travels.
Because the blades are made of high-quality steel, they are hypoallergenic and that means a lot for those with sensitive skin or don't have a lot of experience with nose and ear hair trimming. The blades can also be rinsed under your sink's tap water, making it super convenient to clean on the go.
Having a trimmer that is easy to clean means that you can save more time and keep it working for a long time. In the same way, having water-resistant blades and a water-resistant body means that you can also use it while showering. This is especially the case for those who shave while taking a bath.
A comb attachment for eyebrows is also included. This lets you shape your eyebrows and maybe even detail your mustache or beard as well as if you have stubbles or sideburns. This comb attachment is a good freebie for those who need some detailed grooming and precise beard and brow shaping.
The trimming head has a reciprocating action which effectively cuts off the unwanted nose and ear hair without prompting you to scream in pain. A total of 3 heads can be interchanged with the unit, aside from the reciprocating one, such as the pen and rotary ones, for your other trimming needs.
What's more, the lightweight design of this ergonomic nose trimmer makes it okay to use with just one hand and to keep your hand as precise as possible, so as not to slip and cause pain and pulled hairs. Likewise, being battery operated means there are no dangling cords to cause injury.
Pros:
Comb attachment
Okay for sensitive skin
Different trimming heads
Wet and dry operation
Battery powered (cordless)
Cons:
May have switch design flaws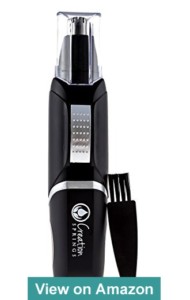 The Creation Springs Electra-Trim Nose/Ear Hair Trimmer is a great choice for those who want a rotary blade designed trimming head. This kind of trimming head lets you cut nose and ear hair effectively and much faster due to the 360 degrees spinning style which utilized stainless steel blades. These blades are not just sharp but also hypoallergenic and safe for all skin types.
There are also attachments that are included with the unit so you can also shape your sideburn, stubble, mustache, beard and even eyebrows, aside from just trimming your ear and nose hair. Having these attachments is crucial for those who absolutely want finely shaped facial hair.
The triple vented vacuum system of this trimmer ensures a cleaner shave and doesn't hurt your nose or ears at all. This is a good feature, especially for beginners who are afraid of hair pulling and other possible injuries that can result from a trimmer.
A LED light system comes along with this trimmer so you can light up the darkest areas of your nose or ear, thus making trimming much more effective and safer, as you can illuminate potential spots that you might miss hairs from. You can also use the LED to stay away from sensitive spots.
With a casing that has an ergonomic design, you will find it easier to grip even if you are in the shower or have wet hands. It also works well for both wet and dry operations so it's not just for trimming in the shower but also for easy cleaning under tap water for maintenance purposes.
Because it is AA powered, you do not have to worry about dangling cords that can cause mishaps while trimming. Being a battery powered unit is much more convenient because you can use it anytime and anywhere without a lot of fuss. As freebies, there is also a cleaning brush included with the unit as well as a storage base.
Pros:
LED light
360-degree rotary blades
Battery powered so it is portable
Hypoallergenic
Cons:
Lack of replacement blades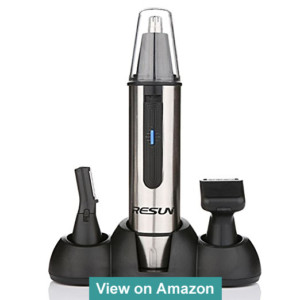 The HLYOON 3-in-1 Waterproof Nose/Ear Hair Trimmer is a considerable option if you want a good grooming station in just one package.
It is a multi-tool trimming device that has many attachments and heads you can choose from.
Simply put, you just change the head so you can use it for your nose, for your ear hair, for eyebrows, beards, sideburns, stubbles, mustaches and the like.
The stainless steel body of this trimmer makes it a heavy duty one that might last you many years if you take good care of it. Adding to that, a lock for safety purposes is also in the unit – to keep your children from accidentally or intentionally using it, to protect them from the dangers.
A LED light is included with the unit to help you find lost hairs in darker areas of your ears and nose. It also allows you to stay in the safe zone when it comes down to trimming ear and nose hairs so you'll have a less painful experience, especially if it is your first time.
Being waterproof makes this trimmer so convenient to wash under tap water for your next usage. What's more, it is applicable for shower use so it's a great wet and dry nose trimmer to consider. Having a fully washable trimmer is important because it prevents device clogging altogether.
The rotary head of the trimmer is great for nose and ear hair removal. There is also the eyebrow trimmer attachment that allows you to groom your eyebrows the way you want it. If you are maintaining a beard, stubble and the like, you can use the beard trimming head or attachment instead.
You only need AA battery to power up this compact yet reliable unit. There is also a base for you to mount your accessories and the trimmer when it is not in use. A warranty of 3 years is guaranteed with this trimmer.
Pros:
Battery powered for portability
All-in-one grooming station with attachments
LED light
Waterproof
Conclusion
In any ear and nose trimmer, it is important that you pick the one that is just the right one for your needs and purposes. For example, if you don't intend to use it while traveling than having a corded trimmer won't be so bad.
However, it is still a great thing to have a portable and cordless trimmer because you can travel with it and the lack of cords will keep your operation safe and sound.
In the same way, having a fully washable nose and ear hair trimmer means business, as you can easily wash it off after using and not leave a trace of hair behind.
This helps in preserving the lifespan of your trimmer in the long run, so you get more value for your money.
Likewise, if you do want to get a nose and ear hair trimmer that has all the bells and whistles, make sure that they really work.
For instance, getting an attachment set along with a trimmer package can be a good thing, but might be a nuisance altogether if you find that one of the parts aren't working as intended. Nonetheless, most trimmers for ear and nose hairs are designed to be specified only for that function, so you might as well get a separate beard or mustache trimmer anyway.