The electric saver is most popular useful choice for men to use in daily routine to shave excess facial hair.
When we have lot of option then it's too hard for choosing which one is best electric shaver and suitable for your skin. That's why we make list out the top 10 best electric Shaver which are proven to provide a great close shave, are comfortable to use and won't irritate your skin.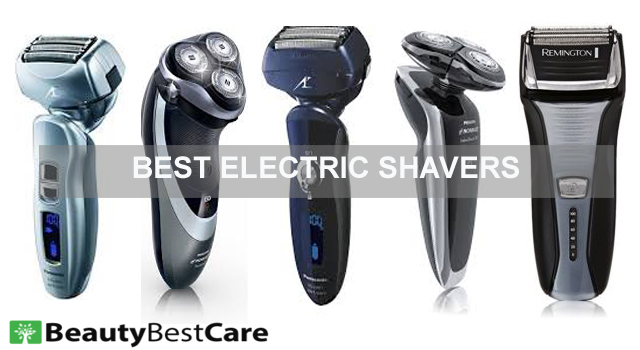 Therefore, we categorize and analyze all the information about each shaver so you can easily compare.
Before purchasing an electric shaver there are number of factor should be considered like battery life, weather it offers Wet & Dry technology, features, style, design, and comfort. Here we are assure you that will find the every detail as you need.
We will give you faithful advice where you can trust.
Best Electric Shavers 2017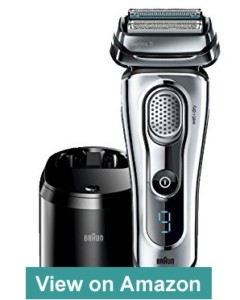 All series 7 precision shavers are designed, engineered and made in Germany. It has all of the features of an advanced electric shaver.
It has been rocking the market since 2010 and will assure to continue do best few years to come.
No doubt it is the best electric shaver out there and also number one or top in our list of choice of electric shaver.
The shaver provides ease close and smooth shave as compared to others in our lineup. You don't need to go over the same spot twice which significantly reduces the risk of skin irritation.
In this electric shaver have 3 trimmers. Two of them are called "OptiFoil" while the one within the other two, is called "ActiveLift".The ActiveLift trimmer helps to cut out the short , flat-lying hairs and in-grown hairs, especially in the neck and chin area. It consists of 10,000 micro vibrations per minute that promise to remove more hair with each stroke.
Another unique feature of Braun Series 7 shaver is the three personalization modes.
Braun provides you the three different setting of shaver characteristics as per your skin and hair type need.
Normal
Intensive
Extra Sensitive
At a touch of finger you can choose the mode according to your skin type because we all have variation in it.
Cleaning, Recharging and Battery Life
Convenient, what's great about this product is its waterproof. The Series 7 shavers have a cleaning dock included which is not only charge the device, though also vigorously washes the shaver with an alcohol-based cleaning solution that kills 99.9% of harmful bacteria.
The battery life of Braun 790cc is excellent, lasting well over an hour off of just one charge. Overall, the product is very durable and will last you a long time.
As per to Braun, it provides 50 minutes of shaving from a single charge, but as per to Amazon Reviews you can easily get 60 – 65 minutes of shaving per charge.
Finally, the Braun 790cc is very easy to clean and charge.
Therefore ,there is 1 missing thing in this electric shaver that wet & dry technology is not available. Though, this feature is available in other different of Braun Series 7 which is Braun 799cc .It is quite expensive as compared to Braun790cc.
A very small price to pay for a faster shave as compared to others in our lineup. Another one best thing in this product is, it is comes with a standout 2 year warranty not only this but also an optional protection plan to ensure that if your razor is damaged, you can replace it.
Pros:
Close shave.
Long-lasting charge.
Customizable shave settings.
Flexible and Pivoting head.
Automatic cleaning and charging dock.
Active lift operation helps shave flat-lying hairs.
Cons:
It has a very high vibration.
Cleaning system is noisy.
Absence of Wet & Dry Technology.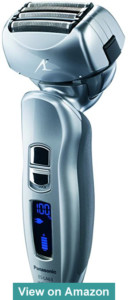 The Panasonic Arc4 has some similar features which are in Arc 5.
The feature a linear drive that delivers 14,000 cuts her minute that provide quick, efficient and close shave, without having to go back over the same areas twice for hair pulling.
As compared with Arc 5 it has four blades and it does not come with the charging dock. This means that you have to buy a charging dock.
It has a downside that you have to be cleaned this shaver manually with water.
A dual motor shaving system that delivers side-to-side and back-and-forth movements to lift and position hairs to ensure gentle clean. Even removal on all skin types and making it much easier to cut smoothly. This shaver is an ideal bald head shaver.
This Panasonic shaver is ease to hold and designed to shave gently on even the most sensitive skin.
A Multi-Flex active head to ensure smooth, shaver head up and down to help lift and hold hair for a clean, efficient shave.
As visual indicator available in Arc 5 same as in Arc 4 where you can easily check power status, charge indicator and cleaning and replacement reminders for blades.
Finally, it is high-performance shaving, smooth, comfortable and consistently even shaving.
The Panasonic Arc4 is a great affordable shaver for closest and smooth.
Pros:
Close shave.
Wet/dry, you can shave in shower.
Good for sensitive skin.
Design gives a comfortable grip, and the pivotal head makes it easy to reach hard to reach areas.
Cons:
No quick charge option.
Doesn't have complimentary cleaning.
Can't use while plugged in.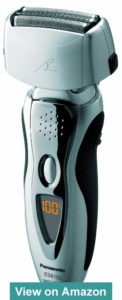 Panasonic Arc 3 shaver is outstanding shaver coverage and closeness. However, it comes with a more affordable price, which makes it a good choice for you.
The foils on this shaver are comfortable and can contour to your face, which minimizes pain or irritation. However, because it is so powerful, it still may be a bit much for those who have sensitive skin – a problem that was also seen with the Arc 5.
The Panasonic Arc 3 has three ultra-sharp Nanotech blades to cut hair at its base for close on your face and neck without discomfort. The blades are turned at a thirty degree angle to get close to the hairs.
This shaver comes with Foil Shaver Cover that comfortable and can contour to your face, which minimizes pain or irritation.
It comes with a pop-up trimmer which is great for grooming your mustache or sideburns and it also works both in and out of the shower.
The shaver needs to be cleaned manually under running water, which may be a downside for some customer.
However, the shaver has the visual indicator, so you can see exactly how much battery is left before you need to charge it.
At all, the shaver has wet & dry technology. As compared to above mentioned shaver it is good choice in affordable price.
Pros:
Wet & dry technology.
Nanotech Blades.
Gives a close and smooth shave.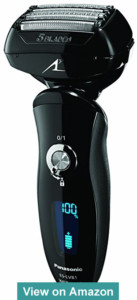 Panasonic is Japanese brand .It is one of the best electric shavers in the market for close shaving. If you are using manual shaving or not satisfied with other shavers for close shaving then let it try this shaver after using it I am sure you will happy on your decision choice.
The quality of shaver is good. It contains 5 blade which uses ultra-sharp, 30° angled hypoallergenic blades for exceptional closeness and comfort.
Panasonic Arc 5 contains Hyper Performance linear motor delivers 14,000 cycle per minute, which is very powerful and 30-degree angle enabling whiskers to be cut cleanly at the root. This men's electric shaver also available a Pop-Up trimmer to quickly trim your beard and mustaches.
Panasonic Arc 5 is 100% waterproof. It has wet/dry feature which is convenient to use the shaver in or out of the shower.
Automatic charging and cleaning system with a hygienic, alcohol-free solution whereas remove debris and stubble. It is keeping it fresh and ready for your next shave.This is more convenient and works better than clean by manual.
There is an LCD display which keep you show battery status, charge indicator and also a cleaning reminder to keep your blades fresh.
There are three different types of foils on this shaver.
1. Finishing Foil: It is ultra-thin electric shaver which cuts stubborn hairs.
2. Lift-Tech Foil: helps to cut flat-laying and ingrown hair.
3. Quick-Comb Blade: helps to cut longer hairs.
When you use this shaver you will feel very comfortable and smooth skin.
However, one drawback of this shaver is that it can be a little bit too powerful on sensitive skin as per reviewer said that they have an itchy sensation.
Overall, it is a fantastic product which works very fast for those with a dense beard or thick hair.
Pros:
Good for thick and heavy beards.
5-blade shaver.
Gives a smother after shave appearance.
Automatic cleaning system.
Cons:
Itchy and not good for sensitive skins
It is quite expensive(Not really surprising)

With Remington F5-5800 great shaving experience. It provides a very close, smooth, and comfortable shave for my head. Trust me, it works extremely well.
The Remington foil head is built with Pivot and Flex Technology allows each shaver foil to flex severally, so it adjusts perfectly to the curved surfaces of any face and gives you exceptionally close, comfortable shave.
You don't need to worry about cleaning. It is 100 % waterproof so, you clean it to keep it under running water. Therefore it also saves you money as other shavers are expensive which have an auto clean facility.
This shaver builds with Pivot & Flex which helps to move with the contours of your face and maintain close contact around you're the chin, jawline, and neck.
The advanced feature of Intercept Shaving Technology sits between the foils to pre-trim your longer hairs for a closer shave
The 3-stage system uses the
1. Intercept tool: for pre-trimming longer hairs on face.
2. Two flexible foils: for close shaving and make your face smooth and clean.
An LED power display will let you know when need to charge your shaver. After full battery, you can use it 60 minutes. Though you forget to charge it so, you can quickly charge it in 5 minutes for one shave. You'll have plenty of cordless shaving time to get ready.
A handy pop up trimmer will allow you to carefully trim thick growth, around sideburns, mustache, or beard.
I consider it to be one of the best. It is easy to use and with the flexible shaving head, you can moves if you shave the different areas of your face and neck.
Pros:
Long battery life of 60 minutes.
Provides a quick power charge in just 5 minutes.
Two-year warranty.
A Smooth and Comfortable Shave.
Cons:
It is much noisier.
If you have sensitive skin, it may cause some irritation.
It is not quite as close.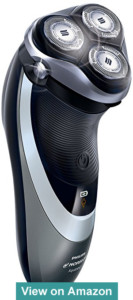 A great gift, If you like rotary shavers over foil.
It has Aqua Tec technology, which makes you free to use it either on wet or dry. The Wet & Dry technology allows you either a comfortable dry shave or a refreshing wet shave with or without shaving cream or gel.
This shaver has three rotary heads are:
1. Pivot,
2. Flex and
3. Float System
The function of 3 rotary head is to remove all of the desired hair and keeps the heads in close contact with the skin for a fast and efficient shave.
Dual Precision technology shaves all long hairs and short stubble, so you will experience with a smooth and clean face.
This shaver has integrated pop-up trimmer is perfect for trimming, goatees, sideburns and moustache.
It is designed for easy to clean. The Lithium-ion rechargeable battery takes 8 hours for fully charged and provides 50 minutes of battery backup for shaving.
These low-friction heads are also rounded to further protect the skin. To cut comfortably below skin level, a patented Super Lift and Cut dual-blade action lift hairs.
It has a touch control display that shows you how much battery is left on the shaver. Its cordless feature allows you to easily use at home or outside.
As compared with other shavers we mentioned in the list, it follows every contour of your face similarly other cannot do.
There is a downside is that the battery is not replaceable, so you should take care lot of it.
It is an ideal choice for those with a lot of facial hair. It also travels friendly so, you can carry with you anywhere.
Pros:
Easy cleaning (Simply rise it with water).
Comfortable to hold and very lightweight.
Take care of the sensitive areas.
Cons:
Doesn't have travel pouch and charging stand.
It cannot be used when plugged in.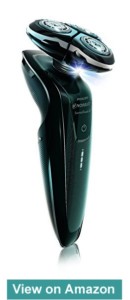 It is particularly good for anyone who has sensitive skin and cannot use anything too powerful that might cause redness, irritation, or cuts.
This shaver has rotary technology which somewhat different from other shavers.
Gyroflex 3D countour following system has three ways:
1. Flex outward: giving you the best shave possible
2. Pivot around: to get at even the most inaccessible hairs on the face.
3. Tilt inward: to follow the natural contours of your face
It can rotate in three directions that's why it is called Gyroflex 3D countour.
Its uniquely shaped shaver unit and jet clean system that makes you feel comfortable shaving. Although the JetClean system not only cleans your shaver but give you another advantage while cleaning that it'll also charge after finished cleaning your unit
The three UltraTrack shaving heads cover more than 50% skin surface that catches hair which is in the different direction like flattened hairs, long hair, and short stubble.
This technology ensures that there are no stray hairs left behind. It also comes with a pop-out trimmer for sideburns and moustache.
Those have the sensitive and dry skin they have probably issue that after shaving they feel their skin more dry and patchy so, With AquaTec technology gives you the option of either shaving with gel or foam for extra skin protection or dry for convenience. Surely you will enjoy a comfortable close shave without irritation with it.
Philips Norelco SensoTouch 3D is designed to comfort, flexible with ease to hold.
In the end, the Philips Senso Touch Shaver works very well and offers a smooth and fast shaving experience, with or without wet.It is on 4th number on our list of best shaving collection.
Pros:
Looks stylish and slimmer.
GYROFLEX 3D heads will help to less shaving burns, redness and skin irritation.
With AquaTec technology gives you extremely comfortable and closer shaving.
Wet & Dry technology available.
Pop-out trimmer provides the superb job for sideburns and moustache.
UltraTrack heads cover 50% more skin surface.
Cons:
Replacement head is a serious Issue.
Bulky for travel charger dock.
No use while charging.
Poor Built quality (All Plastic and Rubber).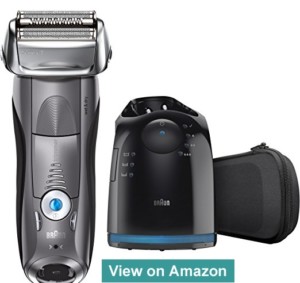 It's made from chrome-finished plastic, which looks cool and a design that is easy to hold as you shave.
It has all the features of the series 7 but also has several differences
The cost is the biggest difference between in this shaver and series 7.The cost is almost twice as compared to series 7.
It consists of 40,000 micro vibrations per minute which are might be good for those who preferably needs an extremely close shave.
The other difference is that series 7 has three different setting of shaver characteristics as per your skin type need but in series 9 does not.
This electric shaver has two of the cutting elements One is called "direct and cut" and another is designated "hyper-lift and cut." The first helps the shaver to align the hairs which grow in different directions and then cut those out. The second is designed to cut the hairs which lie flat on the neck and chin areas.
it also has the wet & dry technology which allows you to use this inside the shower, or on the sink with your favorite gel or cream for a smoother shave. So don't you worry using it under the shower.
Moreover, the Braun Series 9 9095 has Wet & Dry technology which was missing in 790cc. The more powerful motor and enhanced cutting design also helped to minimize irritation. On the other hand, the shortcoming of this shaver is that it is all plastic which is very expensive.
What about battery life?
Braun Series 9 9095cc can go for almost an hour on a single charge. There is most relevant feature is five-minute "emergency charge" which will give you a little bit extra time if you need while charging it. It is an alcohol based charging station.
Pros:
Performance 40% better than Braun Series 7.
Have one more cutting element called "Direct & Cut".
Alcohol Based cleaning system.
It has of Wet & Dry Technology.
Cons:
Price is a high(Double of 790cc).
Cheap chrome plated plastic.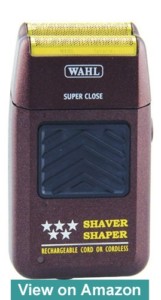 If you have sensitive skin or allergies then it is a good choice for you because it is particularly designed irritation free.
This powerful shaver offers an appealing aesthetic in addition to a top-notch precision which helps in trimming mustache and sideburns. With hypoallergenic gold foil, takes beard down for a super close bump free shave, ingrown hairs, or skin irritation.
It feels good in your hand therefore easy to grip and hold.This shaver is travel-friendly which is convenient for those who need to carry their shaver on the go with them.
This Wahl shaver promises to leave super close bump-free shaving that can often happen after a shaver gets too close to the skin.
Wahl is an American brand. It is inexpensive shaver which offers smooth and close shave look.It works excellent and does not need to go twice on same.
It comes with a rechargeable battery that can keep the rotary motor running at full speed for up to 60 minutes per charge.
There's no need to worry about a dead battery. The charge lasts for a long time giving you plenty of time to finish.
It does not have cleaning station so you have to clean manually that's why it is less expensive as other shavers are in the market.
One downside in this shaver is that it is getting hot very quickly and also vibrates a lot at the time of shaving.
Pros:
Super-close bump-free shaving.
Very lightweight.
Cord or cordless operation.
Coated hypoallergenic foil.
Ideal for sensitive skin.
Cons:
Vibrate lot.
It's hot quickly.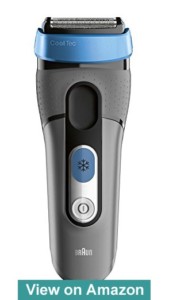 Braun CoolTec men's shaver has unique features of active cooling technology that make it stand out from other shavers. It automatically cools the skin while shaving, minimizing redness, burning, and reducing shaving skin irritation. If you ever feel warm or irritation while shaving at that time you will love this great feature.
The Braun CoolTec is 100% Waterproof and Fully Washable. This electric shaver is a wet and dry product.
You can bring it into the shower with you. You can rinse it under running water to get the hairs out.
Specially engineered with adaptable 3-stage cutting system includes shaving elements that move independently over every facial contour which gives you ultimate closeness and comfort shaving.
The LED display will let you update about charging level, battery if it is about to die and hygiene status uncertainty it's due to a cleaning.
For your convenience on a single touch of a button, your shaver is hygienically cleaned, charged, and lubricated.
The SensoBlade technology captures hairs which are growing in different directions and provide you ultimate smoothness shave.
The powerful Li-Ion battery takes 1 hour to get fully charged, giving you up to 45 minutes of cordless shaving and up to 15 minutes of the cooling function.
Pros:
Very good for sensitive skin.
Gives close and comfortable shave.
Feel good with Active Cooling Technology.
Wet And Dry Shaving Capability
Cons:
Doesn't have an automatic cleaning station.
Electric Shaver Buyers Guide
All modern day electric shavers are designed and manufactured with latest technology to add features to give the best shaving experience to the men of today's age. The electric shaver is the key grooming gadget for the men who take a great care to look attractive and immaculate. So for this generation of smart men who do not leave anything to chance, purchasing the best electric shaver is an important decision. Among the countless and promising options available in electric shavers, you need to understand some vital points that differentiates the best shaver from an average. This buying checklist is applicable to all the models of modern day electric shavers that you can shop from either from online or physical stores.
The following buying tips on electric shavers will be helpful prior to finalizing your purchase.
Features to Consider
Cutting Rate
In today's busy life and multiple responsibilities, one would expect to finish the shaving task as quickly as possible. Most of the electric shavers come with CPC ratings that stand for cuts per minute. Higher the CPC more will be the speed of electric shaver. This is an essential to look for in the best electric shaver.
Number of foils per blade
For those men who prefer precision cutting know the value of foils over the blade. Depending on the type of facial hair you should carefully consider the number of foils per blade. For the men with coarser hair should look for a higher number of foils than those with fine facial hair.
Comfort Level
Effortless and hassle-free shaving is all that makes men sorted. The electric shavers should be gentle on skin without causing any kind of after-shave irritation. For better comfort always look for flexible foils that cruise smoothly along the facial contours making the whole process fast without any cut or scratch.
If you are health conscious you can further look for hypoallergenic coated blades. By doing so you can prevent your skin from any kind of infection or irritation.
Power Source
The electric shavers can be categorized in two categories considering the power needed to use them.
Mains Operated. These work only if they are plugged into some kind of electrical outlet. The mains supply operated shavers are less flexible with limited mobility.
Battery Operated. These type of electric shavers run on batteries. They can be used anywhere, anytime and offer more flexibility while shaving.
Battery powered shavers are convenient to use and carry. These shavers come with different types of batteries that include NiMH, Li-ion. Among all the battery types, Lithium Ion (Li-Ion) are considered the best in quality, battery life, and cost effectiveness. Do look for specifications like "time required to charge the batteries" or "the life of battery" in the accompanying product catalog. Another feature to look for is the battery life indicator on the shaver. It is handy to know the remaining battery so that you can recharge it timely and gets you ready without delays and disruptions.
Design and Construction
Electric shavers are manufactured using different materials. Electric shaver should be sturdy, compact and easy to grip. The handle part of the electric shaver should be ergonomically designed offering a firm grip. If choosing a battery operated shaver, it must have a rechargeable and must be easily replaceable. You might have to spend little more on a shaver with the metal body but you will end up buying a durable and long lasting electric shaver.
Shaver Technology
Electric shavers are either Foil or Rotary based. The rotary shavers consist of more than one circular trimmers. Although these shavers can be used for shaving beard , they find best applications for shaving head as well. On the other hand, foil based shavers have straight trimmer blades and provide better precision than rotary shavers.
Wet and Dry Models
Choose a kind of electric shaver depending upon how you prefer to shave. Whether you intend to use it on a dry skin or with water or foam. If you always shave on wet and foamed skin, then it is better to look for a waterproof shaver.
Variable Motor Speed
The pivoting heads of electric shavers adjust themselves according to the curves of face and neck. But in order to have more control over shaving, you must be able to alter the speed of electric shaver with speed control buttons provided on the handle.
Digital Display
Many advanced electric shavers come with a digital display that indicates vital parameters like remaining battery life when you need to clean or replace blades. You can find digital display in high-end electric shavers.
Shaving accessories
You can always look for extra attachments offered with an electric shaver of your choice. These can be handy for your grooming needs. Some of the preferred accessories to look for are trimmers and beard stylers.
Price
Before you make up your mind to pick your best electric shaver, it is mandatory to know how much you can spend. The number of features and the quality of electric shaver vary according to the price tag. In order to have high-end features in a shaver, you may have to spend some extra bucks.
Electric Shaver FAQs
If you have been using a razor blade for a long time and are thinking about buying an electric shaver for the first time, there might be a lot of queries in your mind. In this section, you can find answers to most common and frequently asked questions on electric shavers.
Should I buy a foil shaver or a rotary shaver?
After doing some initial market research on electric shavers, you might have learned about two shaving technologies named foil shavers and rotary shavers. This is an obvious question that needs to be answered here.
A foil shaver consists of a metal layer that covers the blades. The foil in the shaver is a stationary part and cutting blades move back and forth through foil holes. The electric shavers are similar to conventional razor blade systems and move straight over the skin. The foil based electric shavers are more precise and give a close cutting. These shavers are preferred by men with sensitive skin.
Rotary shavers, on the other hand, consists of multiple blades but in a circular shape. You need to move these shavers in a circular motion. They may not be as precise as foil shavers but are quieter among the two types. Rotary shavers are more suitable for shaving neck and head area whereas foil shavers are preferred for shaving face area.
Both of the shaver types have their own pros and cons so depending on your application, you can choose the best type for you.
What are the advantages of electric shaver over disposable razor?
The modern day market of electric shavers is growing at an exponential rate due to the features needed and demanded by users. Both razors and electric shavers provide close shave but unlike traditional razor blades that often give cuts and bumps on the skin, the electric shavers are safer to use on all skin types.
Electric shavers are non-messy and adjust its performance automatically depending on the hair type. Some of its advanced features include shaving sensors for automatic power control, multiple shaving heads, sonic vibrations and much more.
With electric shavers, you will save yourself from the hassles of frequent blade change. You need to change the shaving heads once in a year. Although these heads are costly in the long run, the electric shavers prove to be more pocket-friendly and convenient that can impress you with a superior shaving experience.
The initial cost of electric shaver might pinch you but they are more comfortable and handy. If you are a regular shaver, it is recommended to buy an electric shaver to enjoy hassle-free shaving.
Can I clean electric shaver myself?
You can clean electric shavers at home easily. Although most of the electric shavers describe the cleaning steps in their user manual, you can clean it manually by placing the blade head under the running tap or shower to get rid of stuck hair and debris. You can also buy any alcohol based cleaning solution from the store if you are not satisfied with simple cleaning with water.
Most flagship electric shavers have inbuilt automatic cleaning mechanism. These shavers clean themselves automatically after every shave but you have to spend extra money on these advanced electric shavers.
Can I use an electric shaver on sensitive skin?
Most of the people are afraid of using electricity based gadgets on face due to the quick operation or fear of hurting themselves. Many electric shavers are not always connected to the electrical outlet and instead are battery operated just like our smartphones so they are completely safe to use.
Regarding the sensitivity of the skin, it is necessary to mention here that electric shavers cause fewer nicks and bruises if compared with the traditional razor blades. The modern day electric shavers are designed to sense your facial hair type and provide the necessary power to shave evenly and closely without causing any harm to the skin.
What is the average life of electric shaver?
The electric shavers are durable and you need not replace them for years. If you take a good care of your gadgets, you only need a routine change of consumable parts like blade or battery. It is recommended to read the operation manual carefully before starting using it. In case you notice any irregularity or malfunction, you should contact brand's customer care for necessary support or replacement.